Digital Marketing has become a sensational topic in this day and age. Everyone wants to learn Digital Marketing because there is a high demand for it.
Every business wants to make a profit but most business owner does not have much knowledge & expertise in Marketing. That is why they need a Digital Marketing expert who can market their business in a strategic way and help them increase their sales.
By now, you probably know how important Digital Marketing is but the question is:
How to become a Digital Marketing expert?
Is it by watching endless YouTube videos?
Or, by enrolling in the premium courses provided by various training institutes?
Or, by reading marketing books written by actual experts or so-called experts?
Or, by joining multiple Facebook groups filled with more and more questions?
It is a tough question & you might have even tried at least one way mentioned above.
It is a repeated question that I get asked a lot or on a daily basis.
And, there is only one answer that I know will lead you to become a Digital Marketing expert.
It's BLOGGING.
Blogging is the only way that will help you become an expert because you will be able to practice & implement everything with your blog.
It is very easy to start and you can learn anytime anywhere you want.
When you start blogging:
You will learn how to do keyword research and identify the right keywords that'll drive traffic to your blog.
You will learn to create content that your audience loves to read & share.
You will learn to create catchy headlines that get clicks.
You will learn to analyze data & traffic that comes to your blog.
You will learn to create social media posts that'll drive visitors to your blog post.
You will learn SEO, paid ads, lead generation, content marketing, and a lot more.
You will not only learn but also implement everything & see the results by yourself.
You will understand what works & what doesn't.
You will know how to test & optimize.
That's how you become an actual Digital Marketing expert.
You don't even need a huge investment to start a blog. You will just need a domain & hosting that will cost around Rs 2,000 per year, set up WordPress & start your blogging journey.
Blogging is the surest way to learn & that's how I learned Digital Marketing.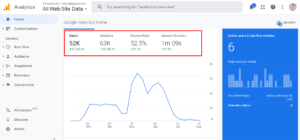 If I had not started blogging, then I wouldn't even be writing this article for you.
Digital Marketing is in huge demand and it is growing every day. Real experts who can bring results are very few and this is the right time to be the expert & become THE ONE. The one that every business is seeking.
If you haven't started blogging, then I would definitely suggest you start IMMEDIATELY.
And, if you want a step-by-step guide, check out my FREE Digital Marketing Course.
Save the date ! Join me for a valuable FREE Digital Marketing workshop – register now for exclusive insights.
Conclusion
This is the only proven way that had helped me be an expert in this field and I am confident that it will help you as well.
If you liked this article or have any queries, then do leave a comment below. I would love to hear back from you.
Cheers,
Saugat Basnet